Creative gift ideas in Dubai
Give the gift of flight and adventure with a TFT Aero gift voucher! Buy online for a quick, thoughtful and awe-inspiring gift. A flight simulator experience is a great gift for anyone from teenagers to couples, to men and women.
Vouchers can even be shared between individuals and family members. Click here to learn more and to buy your voucher today.
Memorable gift
Аmazing adventure and beautiful photos in the family album
Anyone can do it
Ages from 10 years old. No special skills required.
Beneficial
You will know what the pilots are doing during a commercial flight. Will cure you of the fear of flying.
The flight could be shared with the friends
Three guests are allowed on board at the same time.
If your gentleman is a strong and confident as James Bond, then your gift will definitely make him happy. Men always strive to challenge something new and unknown.
This is the best gift for a teenager deeply immersed in computer games. He will obviously be happy and grateful.
Based on our rich experience, it is hard to say who is usually more happy with the gift: ladies or gentlemen. You can't even imagine how the ladies skillfully controls the plane. Dads can come with their son and give him a great experience.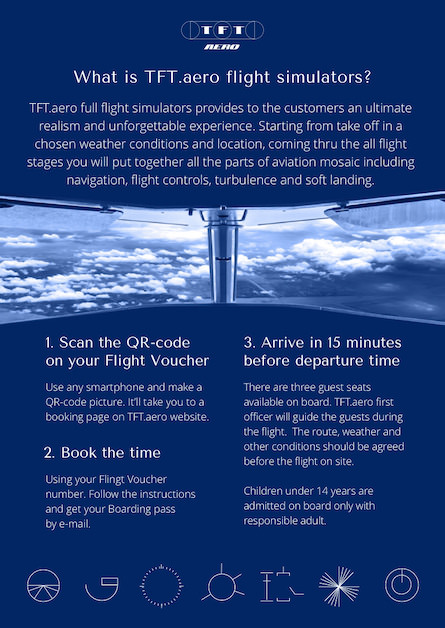 Our Gift vouchers are good for half a year. To purchase a voucher, head to the Vouchers Page or you can visit us at our location in JBR, or you can have one shipped to your home a slight additional cost.
Give the gift of thrill and adventure this year. Your friends and family will be eternally grateful.  

Easy steps to make a gift
Select flight duration
30 to 120 minutes
Pay for the voucher
Online with a bank card or cash onsite
Receive the voucher
Аn electronic voucher will be sent to your email address
Book the time
The voucher holder will select flight date and time
Book a flight   on our website   or by calling +971 58 693 5858 between 10:00 and 22:00 any day
You have to pay before you can book the date and time slot!
Some general tips for timeslot selection
30 minutes program is good for one flight from takeoff to landing. During this time, you can make two very short circles around the airfield or make a short route flight (snacks and drinks are not served on board).
Subjective perception of time is accelerated onboard. We know this for sure, believe us. One hour will seem two times shorter.
Normally two guests can share control by 30 minutes in standard one our flight.
It is normal to have one hour flight personally. You will not be in a hurry and get the information measuredly. The level of information shock will be significantly lower.
Two hours is a good time for a family. You will be able to change roles, get multiple routes and different weather conditions. This approach is better to book in advance to get a free slot at a convenient time.
On demand, we can stop the flight anytime and let you leave the simulator. If you feel you are not comfortable or the children are urgently asking for a toilet, let the instructor know without hesitation. Unfortunately, we cannot extend and refund this gap for you.