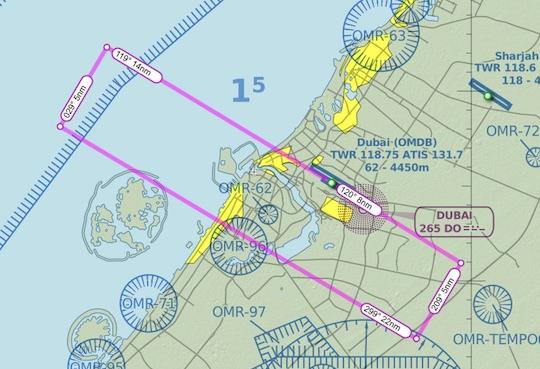 A few circles around one of the region's largest airports at Dubai. As you fly, you will get a bird's eye view of Burj Khalifa, the world's tallest skyscraper, Burj Al Arab, the world's most luxurious hotel, the World and Palm Islands, man-made archipelagos, and many other attractions of the largest city in the United Arab Emirates.
We have an exact high resolution Dubai scenario. Probably, you can find your home or familiar places. We recommend choosing good weather and do not climb too high. This route is a great solution for beginners. Depending on the flight duration, make several takeoffs and landings. It is not obligatory to have circles only over DXB airport. Try choosing Jumeirah heading, reach Al Maktoum Airport and return to DXB for landing.

Do you know?
The population of camels in the UAE in 2003 was estimated at over 178,000, according to the Abu Dhabi Culture and Heritage. The camel is an environmentally friendly vehicle. The maximum speed of the animal is 65 km/h, the cruising speed is about 40 km/h. It will take 60 minutes to ride a camel from Le Royal Meridien Beach Resort and Spa (JBR) to Dubai International Airport (37 km). Gasoline is not required.