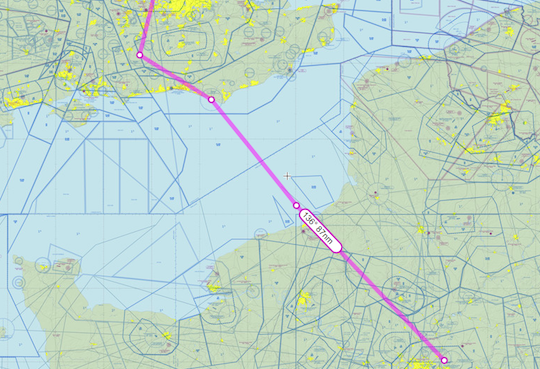 An hour-long flight between two of Europe's major air gateways. You will have a breathtaking bird's eye view of two famed European capitals, admire the London Eye, the Buckingham Palace, Big Ben. Once you are on the other side of the English Channel, the Eiffel Tower will present itself to your view.
For a wise man, flying from London to Paris does not look like a very good idea. It's definitely faster to go by train and not lose time on the way from the airport. Eurostar train has a convenient schedule and the total travel time is less than by plane. The journey begins and ends in the city center. What else, the train can not get into a tight schedule of arrival and hang in the air for too much time. If you are so persistent pilot, then welcome on board. At least, one does not have to go to the airport and go through passport control.

Try London City Airport for take-off, make a left turn over the city and in the next hour get ready to observe the endless fields with cows (this is if you are lucky and the weather will be fine). On approaching the airport Charles de Gaulle, you can learn about the new strike of the ATC stuff and have to fly back home. In this case, we will refund the cost of the flight.

Do you know?
3000 to 4000 tons of cuisses de grenouilles are consumed annually in France, that represents around 80 million frogs. Frogs being a protected species in France. For a long time, the French ate Russian frogs, temporary the things are not going well in Russia and the frogs became thin. Nowadays, the most weighty frogs are imported from the USA, and for the middle class from Asia. The frog legs could be served after the flight on demand. Please make your order in advance.